MoonLight™ - LED Light for Reading
Regular price $39.95 $19.95 USD 50% OFF
Love reading, need to study but having too much hussle with ordinary lights?
The MoonLight™- LED Book Light enables nighttime reading without disturbing anyone else in the bed, room, or airplane. The LED lights skim along the surface of the page-sized acrylic lens providing illumination for just the pages of your book.
The lightweight and compact design of the MoonLight™ makes it the perfect gift for travelers.
Expect 40 hours of battery life from each set of four AAA batteries (not included).
Features & specs
2 bright LEDs illuminate only the pages of your book
40 hours of use from each set of batteries (not included)
Lightweight and compact design
Available in paperback and hardback sizes
Optional soft carrying cases available
Read in the dark without disturbing anyone next to you
Do you like to read? Personally, I'm not a big reader of books; this probably explains why I need three people to proofread every page on our site. Side note: I've recently been working on slipping more semi-colons into our web pages. I hope I used it properly two sentences ago.
So, on to the sales pitch: From what I've heard, crazy people waste precious hours (that could be spent sleeping) reading books. If you're one of those people or you know someone who is, I'm sure these lunatics would love to be able to read while in dark cars, bedrooms, or airplanes. And that's what the LightWedge Book Light allows you to do. It uses two LED lights and an acrylic lens to confine the light to the pages of your book. The LightWedge LED Booklight is small and lightweight, so it won't be cumbersome to use.
In the photo below, the only light present is generated by the LightWedge book light. As you can see, hardly any light spills out from beyond the confines of the book.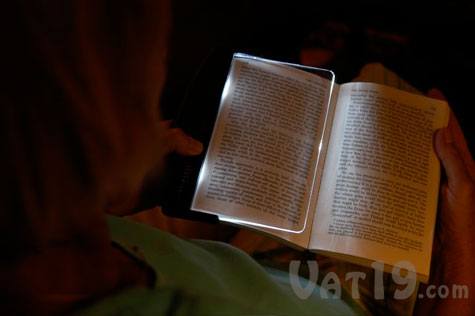 The LightWedge only casts light onto the pages of the book you're reading.
MoonLight™ batteries last for 40 hours
The LightWedge LED book light requires 4 AAA batteries (not included) that will last approximately 40 hours before needing to be replaced.
Purchase the optional soft carrying case for traveling
You can purchase a soft, zippered carrying case for either style of LightWedge. These are perfect for taking your LightWedge on the road or on a plane.

Soft carrying cases are available for both sizes of LightWedge.

This cool gadget is perfect for any bookaholic out there who can't go to bed without reading. This night reader will puts light only on the page you're reading. A page-sized acrylic lens lays flat on the page while two bright LEDs shine discreetly where it's needed. Now you can read at night without bothering the person sitting or sleeping next to you. Whether reading in bed, on a plane, or in a car, this is the perfect accessory for all readers and an ideal gift for travelers
people are currently looking at this product
Estimated delivery time 14-21 days
Guaranteed Safe Checkout